When I reviewed the Macadamia Deep Treatment back in August
here
, I received a comment from
Stephaniepomfrett
. In her comment, she recommended the Superdrug Coconut Oil which was only around £1.50.
Her comment stayed in my mind, so when I finished my much loved Macadamia I had a search for it. Unfortunately i couldn't see her recommendation on Suerdrugs shelves but i did find something else instead.
Coconut and Sweet Almond Intensive Conditioner
When I found this in Superdrug it was on special....two tubs for £1.49. Strangely one tub alone was £1.49, so in affect I was buying one getting one for free! Oh happy days! I have seen this many times before and not really taken much notice, but now I'm pretty glad I did take notice as its quite nice.
Firstly it smells so yummy. I love the smell of coconut but nothing too strong, it just leaves a subtle scent. The feel and texture of this feels luxurious on the hair, with its thick and almost butter like consistency. It feels good to be using this on your hair. I leave this on my hair for 3 to 5 minutes, then give it a thorough rinse, as where it is
that
thick it takes a good scrub and rinse to remove all traces of it.
Once the hair is dried - the shine, softness and manageability is certainly noticeable. It isn't as soft as my Macadamia, but it is a close second place in the race. Bur for the price you're paying compared to the higher priced brands you don't mind taking a little while longer rinsing it.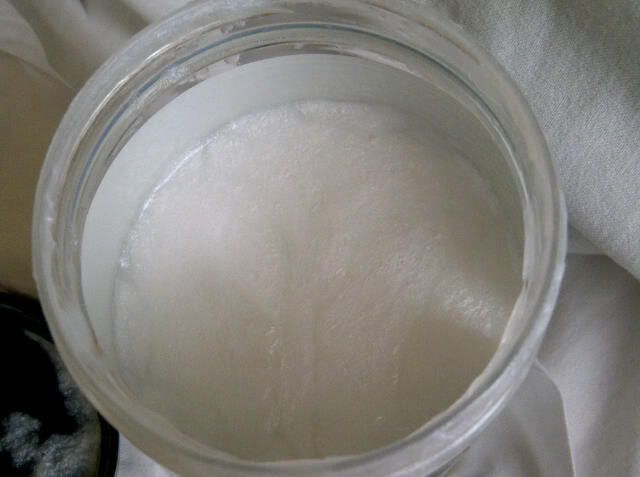 What it looks like in the tub
I know in my Macadamia review i said i'd stick to using that from now on but I am quite liking this. Firstly it's cheap...we're all meant to be making spending cuts and as this is under £2, you cannot really moan about the cost. Secondly, it's from Superdrug. There are Superdrugs everywhere in the UK so it's easy to get a hold of where as Macadamia is not.
I will say one word of warning - try to not get this in your eyes as it hurts :-( just rinse your eyes with warm water if you do get it in your eyes.
What intensive conditioner do you recommend?
Angela xox